Site-Worlds: Art, Time, and Politics In and Beyond Tello (ancient Girsu)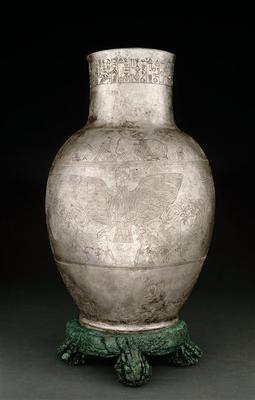 In ca. 2400 BC, Enmetena, the ruler of Lagash in southern Mesopotamia, ordered the fashioning of a vase to be dedicated to his chief god Ningirsu, the god of war and agriculture. Mounted on a copper stand, the gleaming body of the vase was masterfully hammered from a single sheet of silver and decorated in two registers with fine, linear incisions of couchant calves arranged above a series of heraldic compositions featuring the lion-headed Imdugud bird, Ningirsu's symbol. It was appreciated in its own time as an exquisite work, as evidenced by the ekphrastic inscription wrapped around its mouth referring to its "refined" silver. Further, the placement of this text mirrored the performative function it had to fulfill: We are told that the god Ningirsu consumed the monthly fat-offerings, of the kind derived from the depicted calves, through the mouth of this vase. During every performance, text and image worked together for the proper execution of the ritual, which took on a meaning beyond the metaphorical, since the well-being of the ruler, and by extension, of the lands he ruled, depended on this. As the inscription notes, Enmetena "set it [the vase] up for his own life."
The vase was excavated in 1888 by the French vice-consul in Basra, Ernest de Sarzec and sent to the Imperial Museum in Constantinople, as the 1884 Ottoman Antiquities Law claimed absolute ownership of all the excavated material. In clear violation of this regulation, however, Sultan Abdülhamid II presented it in 1896 as his personal gift to the Louvre, despite the protest of other governmental bodies. Today, it is one of the most celebrated pieces in the ancient Mesopotamian collection in Paris.
The case of the silver vase of Enmetena nicely encapsulates the main threads that inform my project, namely an engagement with multiple modes of temporality and materiality. It centers around the archaeological site where this vase was excavated: ancient Girsu, modern Tello, the excavation of which marked the "discovery" of the Sumerians and triggered an archaeological sensation in nineteenth-century Europe. Central to my project is to construct what I call a "site-world:" the totality of the multi-temporal networks of material encounters, discussed not in isolation but as embedded in an understanding of the mutual constitution of past and present, and of object and subject. Through a critical engagement with non-linear models of temporality, a site-world encompasses not only the physical site of Tello and its material remains but also the variety of discourses that have grown out of them over millennia.
Therefore, the study of a site-world bridges traditional disciplinary divides by placing the processes of making and viewing an artwork in the third millennium BC on equal footing with reception processes in the third millennium CE. Similarly, stylistic analysis of artworks from Tello is accompanied by critical readings of Sumerian texts and late Ottoman documents about their production, excavation, transportation, and exhibition. Acknowledging that all taxonomies are context-specific constructs, this emphasis on inclusivity both offers an innovative art-historical method for exploring our engagements with pasts and presents, and disrupts prevailing epistemological categorizations in art history.